Compassionate Hearts Network Inc. is a volunteer run organization. As a team we are glad to spend our time and resources to serve others in need. Please meet our team members below.
Jacob & Asha Joseph
Jacob and Asha are very active partners of Compassionate Hearts Network from its early years. Along with their two kids, they have been inspiring and motivating the team by leading charity projects and supporting volunteer initiatives. This family has a genuine interest in looking out for others and they find time outside of their daily routines to help the needy.
Jeesmon & Deepa Jacob has been motivating people around them with their constant acts of kindness. Jeesmon is an accomplished technology professional who has published several popular apps. The jacob family lives in New Hampshire and they are blessed with two children.
Jeesmon & Deepa Jacob
Grace Pullattu
Entire CHN team is proud to have Grace Pullattu in the team. Grace is an excellent community organizer and prover fund raiser in the community. She works as a healthcare professional in the Boston Metro area. Everyone if the CHN family appreciate Grace's willingness to volunteer her time to help others.
Jiji founded Compassionate hearts Network in 2008, along with his friend Aju Johnson. Their passion is Philanthropy and are always interested in dedicating time and resources to help others.
Jiji lives in the metrowest region of Boston, Massachusetts along with his wife Anita, their three beautiful children, Dawn, Helen & Christen. Jiji is in Technology Management and Anita is a healthcare professional.
Jiji & Anita Varughese
Liju Raju & Sithy
Both Liju and Sithy are IT professionals live in Nashua, NH, USA. They are originally from Aluva, Kerala. They are blessed with two beautiful girls Liya and Riya. Liju and Sithy are keen on taking initiatives for personal charity projects and work with the rest of the compassionate hearts Team to meet it's goals.
Robin & Suja Cherukara family is an integral part of the CHN family. They along with their children Subin and Oshin have been always very active in the church, community and social activities.
Entire CHN team is proud to have them with us to encourage and guide to achieve our goals.
They hail from central travancore region of Kerala, India, working and settled in Metro Boston area of US for the past several years.
Robin & Suja Cherukara
Shabeer & Fazeena Syed.
Shabeer, Fazeena and their only daughter joined CHN family in 2014. As a family they are very committed in philanthropic and community activities. They find time and resources to reach the needy and to do volunteering. Shabeer is in business management and Fazeena is a medical doctor. CHN team is glad to have them in our family.
The Thomas family (Sibu & Asha Thomas) joined CHN in mid 2017. They have been very active in the Indian community of New England for the past couple of decades. Sibu is working a the director of the IT firm based in Boston USA. Asha is a healthcare professional. Both of them are serving in leadership roles in professional and community organizations they belong. They are blessed with two children.
Sibu & Asha Thomas.
Sunil & Amey Varghese
Sunil & Amey have been active CHN members since 2013. They are very interested in philanthropic activities and their support is valuable to CHNs ongoing operations. They are accomplished software professionals and proud parents of two wonderful girls..
Joshy and Smitha Joseph family joined Compassionate Hearts Network in 2019.
They are IT professionals who are very much involved with community activities. Smitha has served in leadership roles in Indian community associations and has been leading volunteer initiatives in her neighborhood. Joseph family is blessed with two kids and they live in the Metrowest part of greater Boston. This family's goal in joining Compassionate Hearts Network is to make a positive difference in the community.
Joshy & Smitha Joseph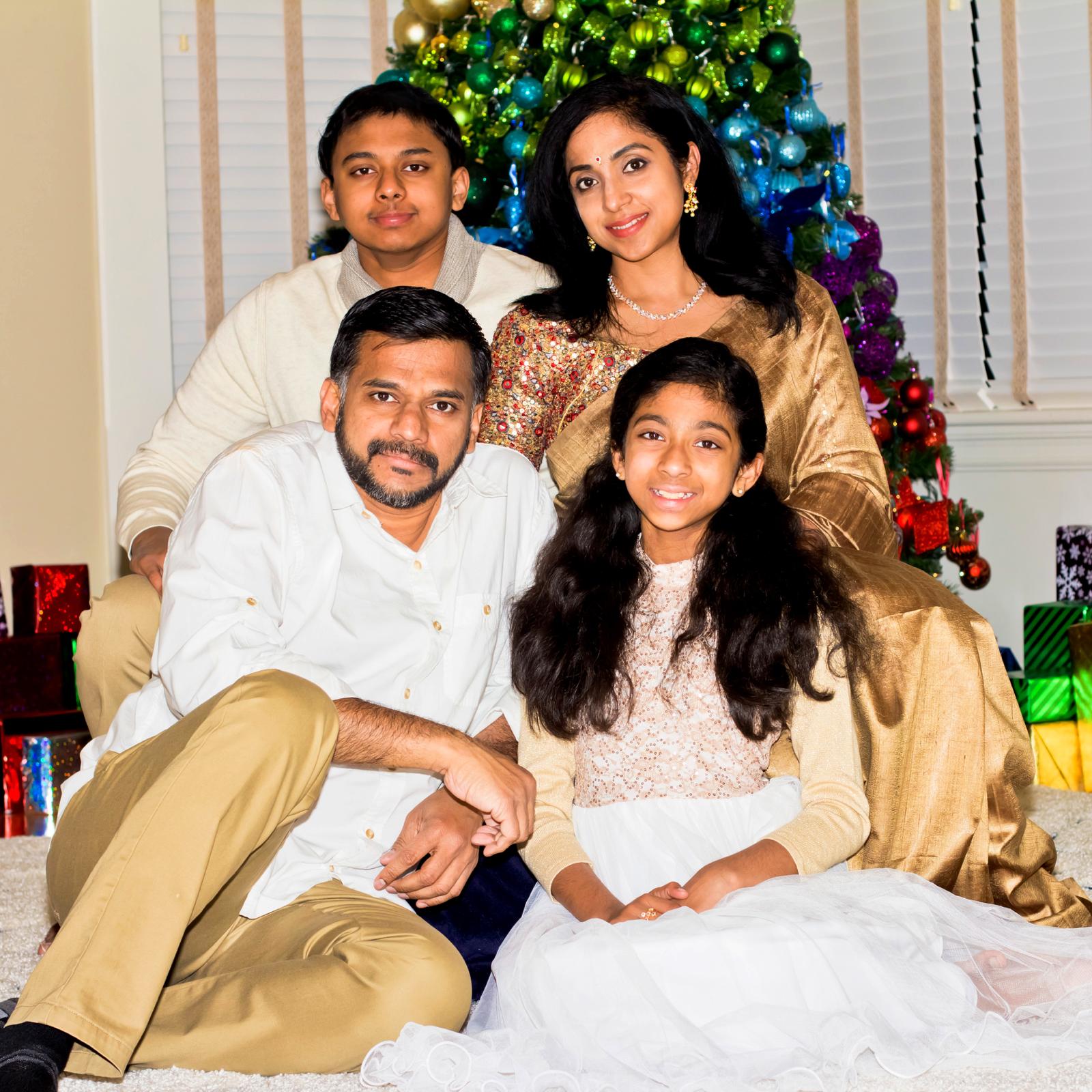 Santhosh & Sindhu Nair
Santhosh & Sindhu are very active in community activities and volunteering in the New England area.  Santhosh & Sindhu introduced Deepti School and associated projects to CHN in late 2018.  Since then, they both along with their children Meera & Madhav are integral part of the CHN family. Santhosh works as the director or technology for a Medical Devices firm and Sindhu is a freelance writer. Sindhu write for Malayalam online newspaper and magazines like Malayalamanoram.com, she also run a Malayalam school to teach children of their neighboring towns how to read, write and speak Malayalam. This family finds time to volunteer and take leadership roles in organizations like NEMA and Solace.
Tony & Sisilia Thomas live in Burlington, Massachusetts. They are blessed with two children, Joel and Elisha. Tony is an IT Professional and Sisilia is a Registered Nurse. They work with compassionate hearts Compassionate Hearts Network on various volunteer activities and are director board members.
Tony & Sisilia Thomas